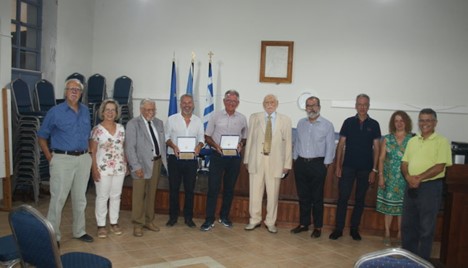 On the 13th of August 2022, the Board of Directors of the Trifylleion Foundation, executing its unanimous decision of July 4th, 2022, by which John Kallinicos of Brisbane Australia was named Major Benefactor and the charity company Panaghia Myrtidiotissa Ltd., also of Brisbane that he directs, was upgraded from the status of benefactor to the status of Major Benefactor of our Nursing Home, awarded them both honorary plaques. The plaque for the company was received by Anthony Konomos, a member of its board. The names of the two honored benefactors will be posted on the donor recognition plaque hanging on the Nursing Home wall.
The Trifylleion Foundation honored John Kallinicos for his outstanding fundraising initiatives through Panaghia Myrtidiotissa Ltd., and the company itself for the generous donation of a total amount of 400.000 AUD. The first installment of 200.000 AUD was used for the thermal insulation of the exterior of the Nursing Home building, while the rest 200.000 AUD will be spent for starting the refurbishing of the interior, for which the total cost is estimated to be 1 million Euros.
Due to the necessary precautions because of the corona virus, the ceremony of award was modest and took place at the school building in Fratsia, the village of Kallinicos origin, only in the presence of the Trifylleion Foundation Board of Directors and the members of the Local Committee of the Nursing Home.